Research Publications & Awards
Research Publications & Awards
Global Urbanization and its Discontents
Center for Spatial and Textual Analysis, Jan. 2018 - Aug. 2018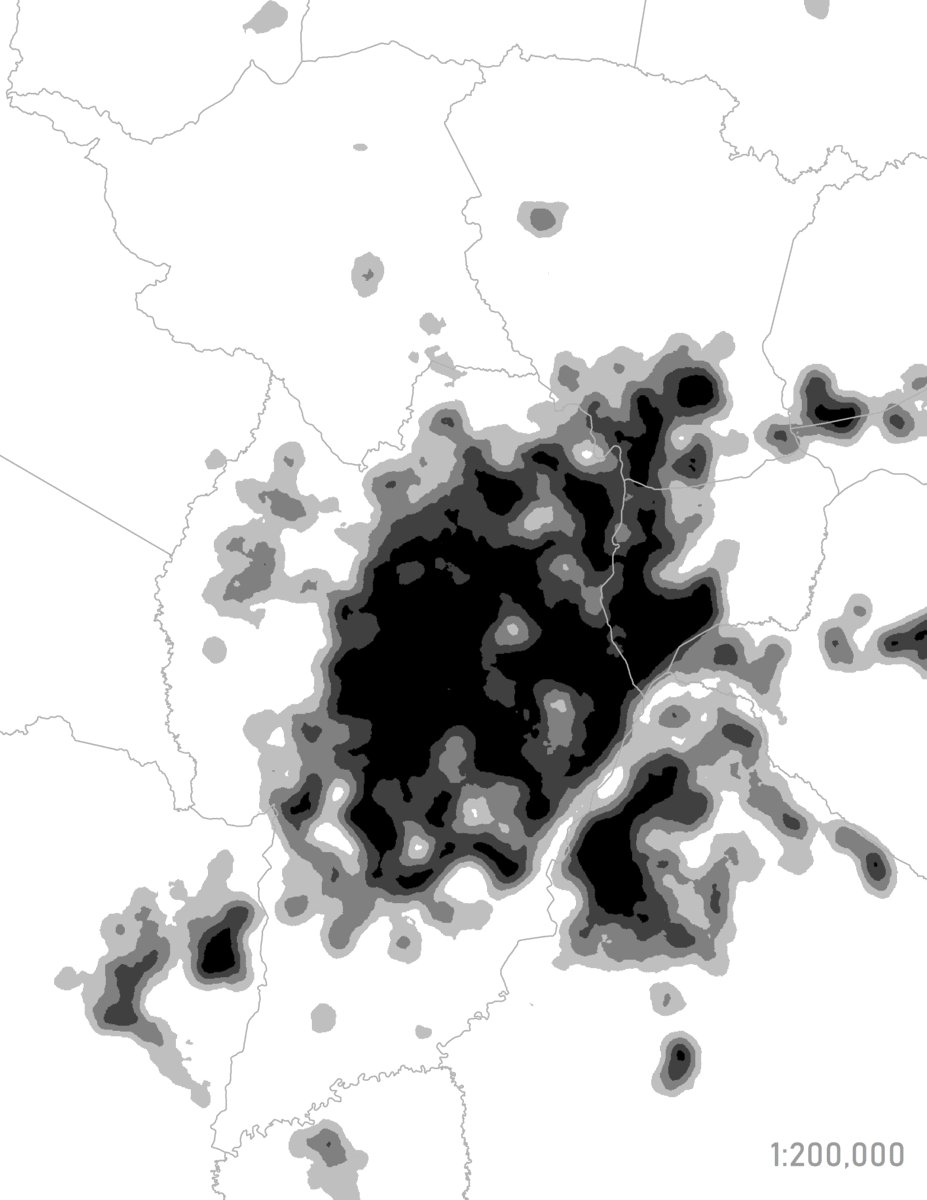 Curitiba urban extent, 1975 - 2014
Water and informal housing in Curitiba
Global Urbanization and its Discontents
Center for Spatial and Textual Analysis, Jan. 2018 - Aug. 2018
All Palestinian refugee camps
Palestinian refugee camps from 1948
All Palestinian refugee camps
Global Urbanization and its Discontents
Center for Spatial and Textual Analysis, Jan. 2018 - Aug. 2018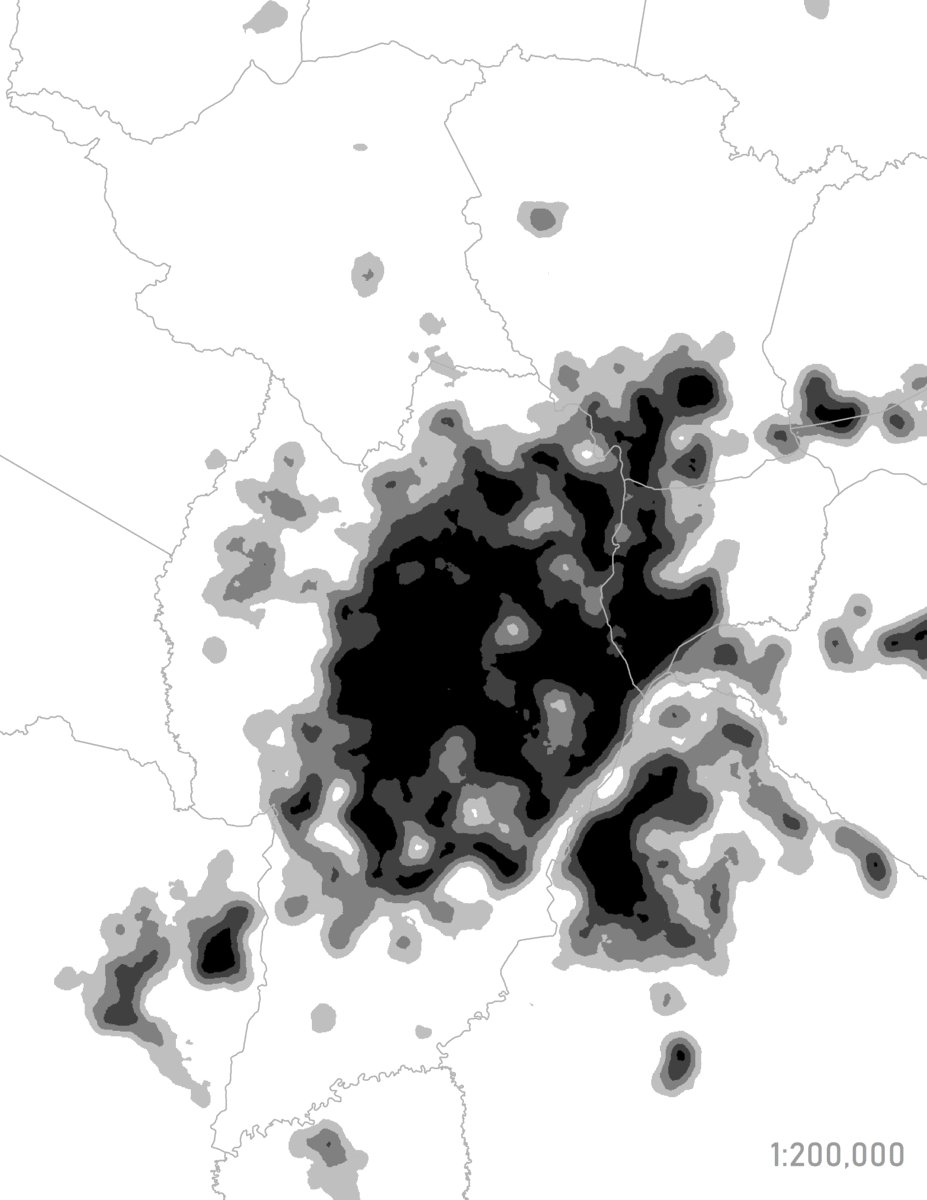 Curitiba urban extent, 1975 - 2014
Water and informal housing in Curitiba
Global Urbanization and its Discontents
Center for Spatial and Textual Analysis, Jan. 2018 - Aug. 2018
Global Urbanization and its Discontents
CESTA Jan. 2018 - Aug. 2018
​
With case studies of cities across the world, including Curitiba, Phoenix and Macau, our team used geospatial analysis and other digital/data tools to interrogate the relationships between urbanization and the production of poverty, vulnerability and displacement. Here, for example, we found that waterways and informal housing mapped almost 1-to-1 in Curitiba, suggesting that areas of flood risk are also those least regulated and incorporated.
​
All Palestinian refugee camps
Palestinian refugee camps from 1948
All Palestinian refugee camps
Palestinian refugees
Introduction to Geospatial Humanities, Stanford University, Sept. 2018 - Dec. 2018
​
Our team sought to answer the questions: How and why is refugee status passed down from Palestinians to their children in camps in the Middle East? How are there still nearly 8 million Palestinian refugees worldwide, decades and lifetimes after the main displacements in 1948 and 1967? Using geospatial tools, we mapped Palestinian refugee populations throughout the Middle East to investigate the unique legal status of Palestinians who were dispossessed or born in limbo.
​
Researcher & Editor — University Network for Human Rights (Armenia; Remote)
May 2023 – Present
Research & draft sections of report on human rights issues in Nagorno-Karabakh to be submitted to UN agencies & other international orgs. Provide open-source (OSINT) research, writing, & editing support across University Network projects. Plan & run student in-field investigations simulation exercise. Interdisciplinary team member documenting cases of atrocity crimes against ethnic Armenians & designing advocacy strategies in response. Field research & interviews in Armenia proper. Legal drafting & advocacy follow-up. Digital verification of online content depicting crimes against humanity. Human Rights Issues in Armenia Fellowship recipient.
Communications Director — Respond Crisis Translation (Remote)
Aug 2023 – Present
Community engagement & storytelling, crisis response communications strategy, cross channel social media management, press relations & pitching, & communications strategizing for global language justice collective of 2,500 translators & interpreters who mobilize 24/7 to help those seeking asylum, medical care, legal service, & other access to basic/human rights.
Researcher/Investigator — Promise Institute for Human Rights (Los Angeles, CA)
Sept. 2022 – Aug. 2023
Collected & preserved OSINT content documenting human rights violations in U.S., Brazil, Iran, & elsewhere. Contributed to the creation of digital archives for use in justice & accountability efforts. Built databases using OSINT & data tools like Tweetdeck, Crowdtangle, SMAT, & Python. Live-monitored social media & mis/disinformation trends during the 2022 U.S. Midterm Election. Verified online content regarding international conflicts, human rights issues, & other events, using geo- & chronolocation, traditional fact checking, & other methodologies. Research, writing, & data analysis for published reports. Developed critical insights re: complexity of human rights issues. Completed University of California-Bellingcat OSINT intensive training. Partner with Mnemonic, Cultural Survival, & other community/advocacy/OSINT organizations. Published "Disinformation & Decentralization: How Viral Videos Helped Spread Election Denialism in Arizona's 2022 Midterm Election" for the UC Network for Human Rights & Digital Fact-Finding.
Public Safety & Criminal Justice Reporter — The Press Democrat (Santa Rosa, CA)
Sept. 2021 – July 2022
Covered local, county, & state criminal justice issues, including policing, prosecution, incarceration, policymaking, community activism, & the court system (local, state, & federal). Focused on analysis, investigative & public service storytelling while turning daily breaking news & enterprise stories. Managed & utilized multiple databases, including in-custody deaths, use of force, local members of extremist groups, & others. Newsroom's resident Excel, Tableau, & PRA whiz.
Breaking News Intern — The Arizona Republic (Phoenix, AZ)
June 2020 – April 2021
Pitched & reported breaking news, general assignment, & enterprise stories. Feature reporting on accountability & civil rights topics including policing, incarceration, COVID-19, racial justice protests, & homelessness. Collaborated on criminal justice data investigations. Managed police shooting & in-custody death database through regular public records/FOIA requests & analyzed data in Excel & Tableau. Stories also ran on USAToday.com. Third in 2020 Arizona Press Club award for best statewide social issues reporting.
Research Assistant — Martin Luther King Jr. Research and Education Institute (Stanford, CA)
Jan. 2019 – June 2020
Historical & archival research on civil & human rights issues. Multimedia production for World House Podcast & other projects.
Writing Director — MINT Magazine (Stanford, CA)
Sept. 2018 – June 2019
Commissioned & edited essays to be published in student arts, culture & fashion magazine. Supervised cohort of writing interns.
Research Assistant — Center for Spatial and Textual Analysis (Stanford, CA)
Jan. 2018 – Aug. 2018
Team member on "Global Urbanization & its Discontents," digital humanities project on growth of cities & urban displacement.
​
Editor — Herodotus Journal (Stanford, CA)
Oct. 2018 – April 2019
Selected, reviewed, & edited original research papers to be published in the official journal of Stanford's History Department.
Editorial Assistant — Bill Lane Center for the American West (Stanford, CA)
April 2018 – June 2018
Reported & published feature on migratory bees and California almonds and managed the Center's "...& the Best" blog.
Storytelling that situates individual human experiences within broader histories, patterns, & issues

Open-source digital investigations (OSINT) tools & methodologies, including social media research, database building & management, data verification/analysis, chrono- & geolocation, Tweetdeck, Crowdtangle, ArcGIS, Tableau, Excel, others

Trauma-informed interviewing, active & empathetic listening, incisive questions in pursuit of accountability

Strategizing & implementing research plans as iterative, creative, collaborative processes

Expert writing & communication, drafting ready-to-publish deliverables & reports, editing, AP style, Bluebook

Independent initiative, enthusiastic teamwork

Above all: curiosity, accuracy, compassion, humility, & community

Languages: Hebrew (advanced), Arabic – MSA, Shami (intermediate)
UCLA School of Law

| June 2023
Master of Legal Studies | GPA: 4.1/4.0


Recognitions: Dean's Journalism Scholarship, 2022 (full tuition awarded to one journalist/year) | Masin Family Academic Excellence Gold Award, 2023 (highest GPA in law school course) | Bruin Scholar Award, 2023 (highest GPA in graduating cohort)





Stanford University

| Nov. 2020


B.A. in History | Minor in Digital Humanities | GPA: 3.96/4.0


Recognitions: Award of Excellence, 2020 (top 10% of class) | Jerry Anderson Prize for Best Undergraduate History Research Paper, 2020 | Harry Press Stanford Daily Award, 2020 (support for outstanding staff writer to continue journalism work)
Bruin Scholar Award, 2023

Masin Family Academic Excellence Gold Award, 2023

UCLA MLS Dean's Journalism Scholarship, 2022

National Press Foundation Criminal Justice Reporting in the Age of George Floyd Fellowship, 2021

Arizona Press Club Award for Best Statewide Social Issues Reporting, 3rd place, 2020

Jerry Anderson Prize for Best Undergraduate History Research Paper, Spring 2020

Stanford University Award of Excellence, 2020

Harry Press Stanford Daily Award, 2020
Stanford University Journalism 101 Course Guest Speaker, 2021-2023

Stanford Daily Summer Training Guest Speaker, 2021-2022

Scalawag Magazine Fellowship Guest Speaker, 2022

CalMatters College Journalism Conference Guest Speaker, 2021

Stanford Daily Summer Training Guest Speaker, 2021

University of Nevada, Reno Media Ethics Course Guest Speaker, 2021